The Health and PE learning area aims to provide a curriculum for Horsham College students to enhance their ability to live healthy and productive lives.
Junior years 7 and 8
The program aims to gives students the skills to be active in a range of different activities and learn important health information to improve all aspects of the health.
PE sports and activities include:
– Athletics, AFL, Hockey, Netball, Cricket, Basketball, Softball, Tennis, Soccer, Badminton, Rugby and Volleyball, Gymnastics, Fitness, Lacrosse, Swimming, Dance and fundamental motor skill development
Health topics covered include:
– Self image, Bullying, Drugs, Sexual education, Physical Health, Mental Health and Social Health
Middle years 9 and 10
With the addition of electives and the Peak Performance program, the curriculum gives students the opportunity to enhance their skill base and consolidate health knowledge.
PE sport and activities include:
– Athletics, Community sports, Indigenous games, fitness, weight training, dance, lifestyle and leisure activities, racquet sports, ball sports, team sports, individual sports, outdoor environmental activities
Health topics covered include:
– Identity, Gender identity, relationships, sexual health, harm minimisation, risk, Health trends and behaviours, current societal health topics
Senior years 11 and 12
VCE subjects in senior years include Health and Human Development, Physical Education and Outdoor and Environmental studies.
Sport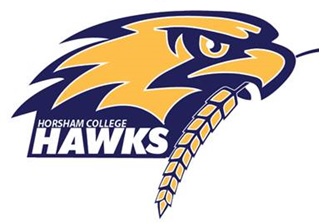 Horsham College students have the opportunity to participate in a range of different organised sports at both a school level, regional level and state/national level.
Students are encouraged to participate in a range of sports and events, major sports listed below, but not limited to:
AFL
Athletics
Badminton
Basketball
Cricket (range of forms)
Cross Country
Golf
Hockey
Netball
Soccer
Swimming
Tennis
Volleyball
A full range of sports and events can be seen on the School Sports Victoria website.
Horsham College prides itself on sportsmanship, positive participation and fair play. All students enrolled at Horsham College have the opportunity to try out and be involved in our sporting program.