What is SEALP?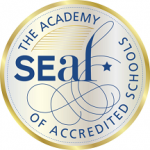 Victorian Government secondary schools have been operating specific programs at authorised schools for gifted students since 1980. These have been known as Select Entry Accelerated Learning (SEAL) schools. The Academy of Accredited SEAL Schools (TAASS) has been established to maintain this tradition to enable groups of like minded students to develop academically, socially and emotionally.
Horsham College is the only school in the Wimmera that has a SEAL program. It has been offered at the College since 2002. In 2016, the program expanded to include two SEALP classes at Year 7.
Why SEALP at Horsham College?
The philosophy of our SEAL program at Horsham College is to provide high functioning students with the opportunity to fulfil their academic and social potential. The SEAL program offers highly challenging, engaging and motivating learning environment for students to move rapidly though the curriculum.  At the completion of the three years, the students have greater flexibility in their choice of subjects for the remaining years of their secondary education as they work towards obtaining their ATAR score.
The SEAL Program aims to provide:
A more challenging learning environment with the opportunity to complete more abstract and complex tasks through greater differentiation
A faster paced curriculum with less repetition: Highly able students may become bored and disengaged in a usual classroom setting
The opportunity to work independently and cooperatively with other students of similar abilities and interests
A positive and engaging classroom that promotes creative & critical thinking whilst developing social and personal skills.
Additional extra curricular activities and opportunities: After school arts/drama/music program, science competitions, tournament of minds etc
What is the structure of SEALP at Horsham College?
In 2018, Horsham College will continue to offer 2 classes of SEALP – one General stream and one Creative and Performing Arts stream. Students in these classes will complete the same subjects, however the content in classes may vary according to student's strengths and interests.
In Year 7 students study English, Mathematics, Science, Humanities, Health and Physical Education, Digital Technology, Language, Technology (Home Economics and Woodwork). Students will also study one term of the 4 Arts – Music, Drama, Art and Media.
In Year 8, a similar pathway is taken in most areas of study. Each student will elect to study 2 Arts of their choice.
In Year 9 students enter the Challenge Programme with its emphasis on relationships and community. Students continue to study English, Humanities, Maths, Science, Health and PE with an emphasis on integrating their studies. All other studies are offered as a semester elective. SEALP students are required to continue their Languages study in Year 9, and must select their language as an elective. High performing SEALP students are able to complete a VCE subject – but is based on performance and teacher recommendations.
Why choose SEALP?
If your child is highly motivated, retains knowledge well and is often bored in mainstream classes, this may indicate that they need to be extended. The SEAL program is for students who desire to extend themselves and move ahead.
The SEAL Program caters for students whose learning needs may not be met by mainstream curriculum. Instead they are challenged with a faster-paced and rigorous curriculum that offers extension in a range of topics. Students are encouraged to be independent learners and their individual learning needs are taken into account when lessons are planned, allowing students to reach their academic potential. Students also enjoy the opportunity to work with similarly engaged peers, and many students enjoy the social benefits of the program.
How does my child apply for SEALP?
Please use the following link to complete your child's SEALP expression of interest. This needs to be completed by Friday 4th of May 2018.
https://docs.google.com/forms/d/e/1FAIpQLSfpbOKWWH8Zn9nnm1iZHNGh1FtybJuBNUQ2aEs4HTivZHp5xA/viewform?usp=sf_link
Key Dates for Parents/Guardians
Information Evening – Monday April 23rd 2018
General Achievement Test (GAT) day at Horsham College Wednesday 6th of June 2018
For more information please contact the Horsham College SEALP Coordinator (Rod Kirkwood) on 03 5381 7110 or email Kirkwood.rodney.r@edumail.vic.gov.au